<!CLICK ON PHOTO BELOW FOR HIGH RESOLUTION (1 MB) IMAGE DOWNLOAD>
<!a href="http://s90206941.onlinehome.us/ccviii.jpg" target="_blank">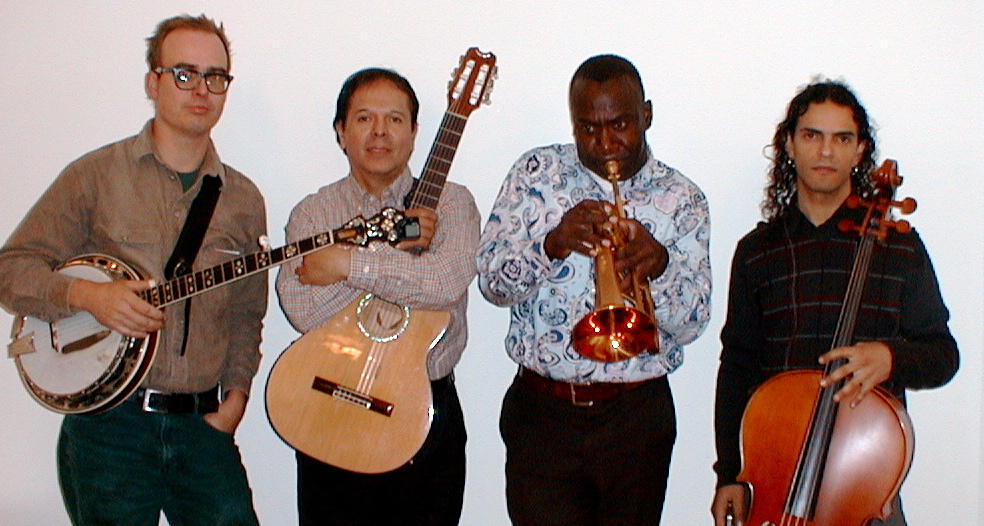 <!/a>
Left to Right: Eric Royer, Carlos Romero, Earl Reginald Graig, Paulo Cesar
photo credit: Ken Field
<!CLICK ON PHOTO BELOW FOR HIGH RESOLUTION (1 MB) IMAGE DOWNLOAD>
<!a href="http://s90206941.onlinehome.us/ccviii.jpg" target="_blank">
<!/a>
Clockwise From Bottom: Eric Royer, Carlos Romero, Earl Reginald Graig, Paulo Cesar
photo credit: Ken Field
CLICK HERE TO DOWNLOAD FLYER FOR PRINTING AND POSTING
Friday, October 13th, 2006 at 8pm
Cultural Constructions presents:
Cultural Constructions VIII: Music From the Streets
Broad Institute Theater
7 Cambridge Center (Entrance at Main Street), Cambridge
MBTA Red Line: Central or Kendall/MIT
Free Admission, Donations Accepted
<!Tickets available at Twisted Village or (617) 354-6898>
Eric Royer, bluegrass banjo; Paulo Cesar, Brazilian cello; Carlos Romero, Latin American guitar & voice; Earl Reginald Graig, classical and jazz trumpet
Media Contact for Cultural Constructions VIII:
Michael McLaughlin
(617) 680-8049
m.mclaughlin19@verizon.net
On Friday, October 13th, Cultural Constructions will present Cultural Constructions VIII: Music From the Streets, the eighth concert in a semi-annual series that brings together four Boston-based musicians of diverse cultural and musical backgrounds. In the spirit of greater cultural understanding, the musicians spend a month working together to create new boundary-crossing music as a uniquely eclectic ensemble. This season's event, the second of 2006, will feature musicians representing the diversity of the very talented street musicians of Boston, including Brazilian and Latin American folk music, bluegrass and classical.
The performers will be Brazilian cellist Paulo Cesar, Classical trumpeter Earl Reginald Graig, Latin American guitarist and vocalist Carlos Romero, and blue grass banjo player and one-man band Eric Royer. Together as an ensemble they will showcase the diversity of cultures and genres that the street music of Boston has to offer.
Critics have called Cultural Constructions "outstanding in its ability to bring together diverse performers in programs of the highest level of musicality" (Northeast Performer), and a "semi-annual, must-see concert event in Boston" (Boston Globe). Founded in May 2003, the series is funded with support from the LEF Foundation and the Berklee College of Music Alumni Grant Program and curated by local composer/musicians Ellen Band, Ken Field, Chris Florio, Jonathan LaMaster, Michael McLaughlin, Danny Mekonnen, and Dennis Warren in coordination with BCMA Artistic Director, Ed Hazell. Past concerts have featured musicians representing ethnic Andalusian, Balkan, Chinese, Jewish, Latino, Malian, Pakistani, South Asian and Turkish traditions, as well as musical styles including bluegrass, free jazz, hip hop, improvised electronic and world music among many others.
About The Performers:
Paulo Cesar
Paulo Cesar is a versatile instrumentalist who plays cello, guitar, and bass. In his native Brazil, he played cello for three years (1989-1992) at the Chamber Orchestra of Universidade Fedral de Goi‡s, and for eight years (1993-2001) with the GoiŒnia Symphony Orchestra. During the past five years he has collaborated with many musicians, including neoclassical guitarist Andre Feriante, Berklee faculty member Dennis Montgomery, and world-renowned drummer Alan White of the rock band "Yes." Cesar's performances encompass a broad range of styles including classical, bossa nova, jazz, tango, rock, and modern music. He is currently working on an original project with composer and multi-instrumentalist Dindy F'niœin, composing music based on modern, rock, and Scandinavian music. Information about this project can be found at
www.ipomia.com
.
Earl Reginald Graig
Earl Reginald Graig was born 4-7-65 in Washington, DC and began his musical training as a cellist while attending DC public schools as a fourth grader. Upon arriving in junior high the euphonium was introduced and he later auditioned for The Duke Ellington School of the Arts where he confirmed his interests in music, but that would be put on hold after going west to Berkeley, California to be a bike bum. While in Berkeley he kept busy with restaurant work and bike racing but longed for music and as he settled back into DC he picked up a horn at a local pawn shop, where he would be seen time and time again. Having a horn again was where life on the street began and at first it was something of a therapy for a failing marriage but after meeting a soprano saxophonist the idea of making a living as a street musician came into focus as they were making in the mid 1990's nearly a thousand dollars per man per week playing primarily duos for Bassoon and clarinet or whatever worked for the collaboration. That worked for a while as guys came for quick silver and walked for jobs that appeared more decent but the discovery of music-minus-one turned a floundering effort into steady cash flow as his trusted mp3 player became his constant partner, along with a Crate Limo amp/speaker. Over the following ten years, the trumpet became a handy weapon for the seize and the streets his school of hard knocks with an occasional teacher from this or that school.
Carlos Romero
Before moving to Boston from New York City 20 years ago, Carlos Romero performed on lead and rhythm guitar with big bands backing up such well-known latin artists as Armando Manzanero, Paloma San Basilio, Manolo Galvan, and Duo Pimpinela. During the 1980s he worked as a recording studio session player for a variety of jazz and latin styles. Today he is well-known as a guitarist and vocalist on the streets of Boston and surrounding areas.
Eric Royer
Street musician Eric Royer has been performing Bluegrass and Old-Time music as Royer's One Man Band for the past twelve years and has been featured in publications such as The Boston Globe, Dirty Linen, Bluegrass Unlimited, Country Standard Time and The Banjo Newsletter. Royer's diverse performance schedule has included venues such as The Newport Folk Festival, Fenway Park, Faneuil Hall, various fairs and festivals, bars, schools, churches, and countless street corners across North America and Europe. Eric plays many instruments at the same time including banjo, his home made Dobro, vocals and his unique invention The Guitar Machine. His current version of The Guitar Machine, often compared to a Rube Goldberg sculpture, allows him to strum acoustic guitar chords, pick bass lines, strike a cowbell with a golfball and make a doll (Polly) dance by depressing pedals, all held together with copper plumbing pipe. Royer has just released his fifth Royer's One Man Band album and is currently busy working his third album with his Bluegrass band The Resophonics, winner of the 2004 Boston Music Awards for Best Folk Act.