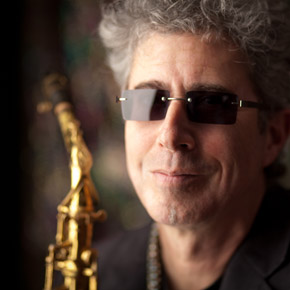 "Something quite original in the world of jazz and beyond."
Kory Cook, KUT Radio, Austin, TX
Ken Field is a composer, saxophonist, flautist, and percussionist. He has received international public and critical acclaim for his solo work, his work with the Revolutionary Snake Ensemble (which he leads), Birdsongs of the Mesozoic, Willie Loco Alexander's Persistence of Memory Orchestra, and the Armenian/American jazz project Musaner, as well as his commissioned compositions and performances with Bridgman/Packer Dance. Field has composed a number of pieces for the children's television program Sesame Street.  He was named a Finalist in Music Composition by the Massachusetts Cultural Council, and currently serves on the Organizing Committee of HONK! Festival, and as President of the Board of Directors of JazzBoston.  He is Past President of the Board of Directors of Tutoring Plus of Cambridge.  Field hosts The New Edge, a weekly radio program of creative instrumental music currently airing on WMBR, WOMR, and taintradio.
The press is talking about Ken Field's solo release "Transmitter" (2021) on Neuma Records:
Revolutionary Snake Ensemble's latest CD "I Want That Sound!" is out now on Innova Recordings. "Hard-partying avant-funk, with boisterous soloing...I Want That Sound! is a strong example of how Ken Field and the Revolutionary Snake Ensemble continue to push the brass band tradition forward in an entirely original way, all the while making music that's a heck of a lot of fun." - NYC Jazz Record
The Revolutionary Snake Ensemble's third CD Live Snakes (Accurate Records) was an Editor's Pick in Downbeat, and Offbeat Magazine (New Orleans) called it "A stone cold killer diller!"